The entire team at Dr. Nadia Filice Dentistry would like to extend a very warm welcome to our office.
It is our privilege to work with many wonderful individuals and families from Hamilton, Stoney Creek, Binbrook, Mount Hope, Ancaster and surrounding areas.
Our mission is to provide excellence in quality of our care by providing the latest in dental technologies, continuing to educate and train ourselves, while ensuring that we deliver your options and treatment in a responsible, compassionate and satisfied manner.
We offer general aesthetic and rehabilitative dentistry. Feel free to contact us to set up an appointment to discuss your individual needs. We will work together to build an informed, honest and trusting environment.
Rebecca Jennings

Rebecca graduated the Dental Assisting program at Georgian College, Orillia in 1998.
She was employed as an Assistant for over 10 years before having a chance to fill in as a Receptionist for a co-worker. Having enjoyed the opportunity, when she moved to the Hamilton area, Rebecca sought out a Front Desk position. She has been Receptionist at Dr. Filice's office since February 2013.
Rebecca is happy to get back to her small town roots having grown up in Omemee, Ontario and now residing in Hagersville. She is enjoying getting to know the Hamilton area and all it has to offer. Rebecca looks forward to welcoming current and new patients, is happy to answer any questions you may have, and help with all of your administrative needs.
---
Ida Sears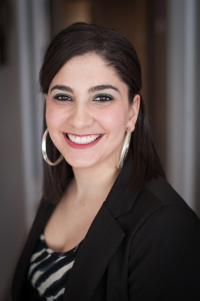 Ida has been working with Dr. Filice for the majority of her Dental Assistant career. In that time she has had a great opportunity to be part of a professional family and friendly work environment.
As a little girl, Ida always had the passion to pursue a career in policing or teaching but instead she pursued Dentistry – having a chance at making the children have fun and feel comfortable, and seeing the patients leave with a bigger and brighter smile makes her feel proud of what she does.
Now as a young newlywed, living in the Binbrook/Hamilton area, it is fulfilling for Ida to meet and build new relationships with different people and their families. During her spare time she enjoys scrap booking, playing different kinds of sports such as hockey, soccer and basketball, but above all that she enjoys spending time with her husband and their puppy Brock. As a member of Dr. Nadia Filice Dentistry Ida looks forward to meeting with you soon!